Media Centre
Making Headlines
Small Business Week - October 20, 2014
October 19th-25th has been declared Small Business Week. Eagle River Credit Union is pleased to take this opportunity to recognize the small and medium-sized businesses of Western Newfoundland, the Northern Peninsula and Labrador for their contribution to our communities.
Small businesses are the heartbeat of our economy. They not only provide the products and services we require and enjoy, but they also provide employment for the residents, allowing people to live and work in the communities they love.
It is with the utmost of respect that we take this opportunity to congratulate business owners on their efforts and successes. We appreciate how much work goes into running a business every day, and THANK YOU for your great work!
Happy Small Business Week!!
International Credit Union Day® - October 16, 2014
International Credit Union (ICU) Day® has been celebrated on the third Thursday of October since 1948. The day is recognized to reflect upon the credit union movement's history and to promote its achievements. It is a day to honor those who have dedicated their lives to the movement, recognize the hard work of those working in the credit union industry and show members our appreciation.

This year's ICU Day will take place on Oct. 16, 2014. Its theme, "Local Service. Global Good.," emphasizes credit unions' positive impact in their communities and around the world.

"ICU Day was established to acknowledge credit unions' strong base in their communities, both local and global," said Brian Branch, World Council president and CEO. "This year's theme champions the credit union model by shining light on the industry's support of charity causes at the local, national and international levels."
The ultimate goal is to raise awareness about the great work that credit unions are doing around the world and give members the opportunity to get more involved. Credit unions and associations throughout the world celebrate the day with open houses, contests, picnics and parades.
Source: http://www.woccu.org/events/icuday
International Credit Union Day: A Brief History
Credit Unions: A History of Community Ownership and Support

This is the story of an idea. A simple idea: that people could pool their money and make loans to each other.
It's the credit union idea, and it evolved from the cooperative activities of early 19th century Europe. The first of these cooperatives was an 1844 marketing cooperative organized by a group of workers in Rochdale, England. That same year in Germany, Victor Aime Huber began developing and publicizing some of the early European cooperative theories. The idea of credit societies was a part of this effort.
Credit Societies: The Birth of Credit Unions

Moved by the crop failure and famine that had devastated Germany in 1846–1847, Hermann Schulze-Delitzsch and Friedrich Wilhelm Raiffeisen created the first true credit unions in the mid-19th century. After organizing a cooperatively owned mill and bakery, Schulze-Delitzsch founded the first "people's bank" in 1852 to provide credit to entrepreneurs in the city. Raiffeisen had established a credit society in Flammersfeld, Germany in 1849 that depended on the charity of wealthy men for its support. He remained committed to that concept until 1864, when he organized a new credit union for farmers along the principles of cooperative interdependence, a community-first mentality and a volunteer management structure that are still fundamental today.
The credit societies in Germany, and similar institutions founded by Luigi Luzzatti in Italy, were the forerunners of the large cooperative "banks" which abound in Europe today.
The Idea Goes West

Over the years, credit unions spread to communities around the world. In the early 1900s Alphonse and Dorimene Desjardins started a credit union (caisse populaire) in Lévis, Quebec. Shortly thereafter, Alphonse, along with Americans Edward A. Filene and Roy F. Bergengren, helped establish credit unions in the United States.
The First Credit Union Day

As time passed, a desire emerged to establish an annual occasion to acknowledge both the credit unions' important role in creating opportunity for their members and communities and the achievements of pioneers who laid the foundation for ongoing credit union success.

On January 17, 1927, the Credit Union League of Massachusetts celebrated the first official holiday for credit union members and workers. They selected January 17 because it was the birthday of America's "Apostle of Thrift," Benjamin Franklin (1706–1790), who early credit union founders believed symbolized "the life and teaching embodied in the spirit and purpose of credit unions."

Ironically, rapid growth within the North American credit union movement meant that people were either too busy to celebrate or too new to the movement to recognize the significance of the celebration. After a brief trial period, Credit Union Day quietly disappeared.
A Second Chance

In 1948, the U.S. Credit Union National Association (CUNA) decided to initiate a new national Credit Union Day celebration. CUNA and CUNA Mutual Insurance Society set aside the third Thursday of October as the national day of observance. By then, many more of America's credit union leaders believed there was a need for an occasion that would bring people together to reflect upon credit union history and achievements and to promote the credit union idea across the country.
Credit unions, state credit union leagues in the United States and many of the informal credit union chapters in each state were encouraged to celebrate the new holiday in some way. It was to be a time for raising funds for movement causes and to pay homage to the men and women who had dedicated their lives to credit union development.
Sending a Message Around the World

During the 1950s, CUNA's World Extension Department provided technical assistance and philosophical guidance for credit union development worldwide. So many countries had established credit union movements by 1964 that CUNA formally expanded its mission and launched CUNA International.

New movements joined the credit union family each year, and an increasing number of people were interested in celebrating their uniqueness and unity with a special holiday that could be enjoyed by everyone—regardless of religion, political beliefs, cultural differences or language. Many credit unions and leagues began to distribute publications, banners, slogans and kits, and Credit Union Day became an international celebration.

By 1971, substantial worldwide credit union progress led to the creation of World Council of Credit Unions to assist others in establishing and maintaining viable credit union movements in countries across the globe. In Canada, Australia, Latin America, the Caribbean, Africa, Asia, New Zealand, Great Britain and the South Pacific, national and regional credit union federations and confederations were established to support and endorse credit union development. World Council created the first International Credit Union Day materials more than 30 years ago, and they continue to provide ICU Day resources to credit unions and associations throughout the world today.
Where and How We Celebrate Today

Members around the world celebrate this special day in a number of ways. Some sponsor open houses, picnics, fairs, festivals and parades; others hold athletic competitions and essay or art contests for young members. Public gatherings with visiting dignitaries have effectively attracted media attention and public involvement, as have educational and public service events.

As your credit union joins in this unique and exciting celebration, remember that you are joined by nearly 208 million members in 103 countries who also recognize and celebrate the credit union difference!
The Co-operative Movement - A Rich History
October 8, 2014
Probably most CU employees, from tellers to CEOs, do not give too much thought to the history of CUs. Daily chores override thinking about the rich history of the movement. Some don't even call it a movement, but an industry. Nor do they think about how CUs make a difference in the lives of some 208,000,000 members of 57,000 CUs in 103 countries.

CUs have developed in different parts of the world with two patterns. Originally, one or two people had a vision on how financial lives could be better for the poor. As the movement developed, one country's CU leaders would help another's. Now organizations such as the Canadian Development Foundation, ILCU Foundation and WOCCU, oversee development projects.


JAPAN
Ninomiya Sontoku Kinjirō (Sept. 4, 1787–Nov. 17, 1856)
Probably the name Ninomiya Sontoku Kinjirō, doesn't mean a great deal to most westerners, although in Japan statues of him (photo) are located throughout Japan. Many schools are named for him.

Who was he?

The future philosopher, moralist and economist was born into a peasant family.

Orphaned at 14, he went to live with and work for his uncle, but studied whenever he could. He grabbed a chance to take over some abandoned land and made it pay, no easy task in a financially-poor area.

He became involved in local politics and used his position to revive the local economy, mainly through agricultural development.

Because of his success, he was given the responsibly of running Odawara Domain then Sagami Province. Faced with a famine he forced the public granaries be opened to feed the people.

He combined the local religions with practicalities. Agriculture was, according to him, one the greatest form of humanity, because it used natural resources. He emphasized the importance of communal interests by saving surpluses for fallow times.

He developed the concept of compound interest when he started his own financial institutions called gojoukou (五常講 ごじょうこう). These were set up much like CUs with interest-free loans available to members for a limited time. Defaults were shared by all members.

His ideas have been handed down through other Japanese writers. Some of his words make as much sense today as they did then.
• He who thinks long-term prospers
• He who thinks short-term becomes poor
• The long-term thinker plants saplings for 100 years hence
• He sows in spring and harvests the fruits in autumn
• Thinking the autumn harvests too distant from spring he does not plant
• Fixated on today's profit, he looks only to reap without sowing. Thus great poverty befalls him

GERMANY
Hermann Schulze-Delitzsch (8 Aug. 1808-29 Apr. 1883)
Hermann Schulze-Delitzsch was the driving force behind the co-op and CU movements in Germany during the 1850s and 1860s.

He was born in Saxony and studied law at Leipzig and Halle Universities.
After a career in the Berlin Court of Justice in 1848 he entered parliament as a left-centre member. When looking into the problems of labourers and artisans, he learned how co-operation helped small business people even the playing field against the bigger organizations.

After he withdrew from parliament, he began to develop co-ops. He founded the first Vorschussvereine (peoples' banks) in 1850.

By 1859 there were 200+ banks and he oversaw the central organization of these banks.

They operated much like modern CUs, giving loans, taking in savings and having member participation on boards.

Rejoining parliament, he pushed through legislation that helped co-ops not just survive but to flourish.

When he died, there were 3,500 co-op banking branches.

Photos: German stamps commemorating Schulze's 200th birthday and his 150th.

Friedrich Wilhelm Raiffeisen (30 Mar. 1818–11 Mar. 1888)
Almost simultaneous to Schulze-Delitzsch, Friedrich Wilhelm Raiffeisen (photo) was setting up CUs in rural areas. His approach was very similar to Schulze-Delitzsch's but was closer to the micro-finance concept of today. His members were poorer than those of Schulze-Delitzsch's. For small farmers regular loan repayments were difficult and leeway was needed for seasonal fluctuations. Board members were volunteers and staff was small, sometimes only one person.

Rather than work closely the two leaders often were in conflict, but their disagreement did not slow the development of CUs. Some two million Germans were CU members by 1913.

The Raiffeisen Banks were founded in 1927 based on Raiffeisen's theories. Today they have an income of €1.2 (CA$1.68).


ITALY
Luigi Luzzatti (11 Mar. 1841–29 Mar. 1927)
Luigi Luzzatti (photo) was the 31st Italian Prime Minister 1910-1911. He is better remembered as the founder of the Italian CU movement.

After graduating from the University of Padua, his outspokenness on the political economy forced him to move to avoid the local police. He later became a professor at the Milan Technical Institute and then in 1867 a professor of constitutional law at the University of Rome.

His political career had its ups and downs and it was said his banknote clearing policies contributed to the 1893 bank crisis.

His social measures included a workman's compensation scheme and the creation of old/age pensions.

In 1907 he presided over the Co-operative Congress held in Cremora.

As a follower of Hermann Schulze-Delitzsch, he helped found the country's first CU, The People's Bank of Milan. The bank now has € 54.05 (CA$76) billion in assets and 8,600 employees.

Leone Wollemborg (4 Mar. 4, 1859-19 Aug. 1932)
If Luzzati was the Schulze-Delitzsch of Italy than Leone Wollemborg (photo)was its Raiffeisen.
He, too, was from Padua and graduated from the University of Padua where he studied the work of Raiffeissen. Taking 30 farm workers/small land owners he began Loreggia, a co-op bank in 1883.

Its goal applied what today would be called micro-finance: low interest rate loans to small landowners and tenant farmers to help them help themselves out of poverty.

Rural Cooperation, a monthly magazine, was started under his direction in 1885 and continued through 1904.


UK
A friendly society movement, defined as people who join together for a common financial or social purpose, began in England about 1762.

The Friendly Societies Act 1819 allowed the self-help movement to use deposits for loans for mutual benefit of the working classes.

The British CU movement as such had a bumpy start since 1872 when the Co-operative Wholesale Society in England began taking deposits and giving loans.

The Credit Unions Act 1979 was passed to regulate UK CUs. CUs were required to have a common bond. Growth was slowed because the number of members and the amount that each person could deposit and borrow were extremely limited.

Today there are about 390 CUs in England, Wales, Scotland and Northern Ireland.

CUs still are seen as poor people's banks. However, the current Archbishop of Canterbury Justin Welby, in an attempt to combat the high interest rates of payday lenders, is supporting CU development throughout England, Scotland and Wales. Banks are helping CU development as well and local government are supporting their development.


CANADA
Gabriel-Alphonse Desjardins (5 Nov. 1854-31 Oct. 1920)
Gabriel-Alphonse Desjardins was born in Lévis, QC. His early career was journalist. He published Débats de la législature du Québec (1879-1890). After he was the French-language parliamentary stenographer at the House of Commons (1892-1917).

Much like the current Archbishop of Canterbury today, he worried about high loan rates charged by moneylenders (a problem that seems to have existed throughout history) triggered when he heard of a local who had been told to pay $5,000 in interest on a $150 loan. Drawing extensively on European precedents, Desjardins developed a distinctive parish-based model for Quebec. After much research into co-op banks in other countries, he and his wife, Dorimène Roy Desjardins, co-founded the Caisse d'épargne Desjardins in Lévis that grew into today's Desjardins Group.

He was unsuccessful in getting a nationwide law to support the CU framework, but he continued to personally form caisse populaires (CP). His total was 146 CPs during his lifetime.

Photo: Dejardins and his wife, Dorimène Roy, who helped him in his work with CUs.


US

The early CU movement owes much to the Canadian movement and Desjardins who visited the French-speaking immigrant population in Manchester NH.

St. Mary's Bank grew out of the original CU. As the first in the US, it was started at St Marie's Church by Monsignor Pierre Hevey in Nov. 1908. Joseph Boivin was the first manager and his home on Notre Dame Avenue has become the American Credit Union Museum, (photo) free to the public.

Perhaps the CU movement would have stopped there had it not been for Pierre Jay, (4 May 1870–24 Nov. 1949) who became the first chairman of the Federal Reserve of New York, and Edward Filene, (3 Sept. 1860-26 Sept. 1937) owner of Filene's Department Store. Filene (photo) pushed the Massachusetts Legislator to enact laws to support CU development. Filene had already been considered progressive, if not dangerous, with his policies of paid vacations for his employees.

He was helped by Roy Bergengren, (14 June 1879-11 Nov. 1955) a commissioner of finance in the city of Lynn MA. He, in turn, helped Nova Scotia draft a CU law for English-speaking CUs.

In the US most CUs have an employer-based common bond giving members an additional emotional and financial tie.

The Credit Union National Extension Bureau became the Credit Union National Association, when state leagues met in Colorado in 1934 during the depression.

The founding of CUs was not just done by men. Louise McCarren Herring (20 Sept. 1909-2 Nov. 1987), joined the movement early on and helped form 500 CUs. She is known as the "Mother of Credit Unions" for her work.


IRELAND

A woman and Dublin teacher from Ballydesmond, Nora Herlihy was one of the driving forces behind the Irish CU movement, along with Sean Forde and Séamus P. MacEoin. John Hume, later to win the Nobel Peace Prize, was an early participant. He claims his work with the Irish CU movement gave him the skills to negotiate on a national level.

The Irish League of Credit Unions (ILCU) was founded in 1960.

Ireland has one of the largest CU member to populations ratios in the world.

The movement has been through some trying times. After the development of a movement-wide computer system failed and the CUs were hard hit, the Celtic Tiger was slaughtered by the world's financial crisis. A competing organization, the Credit Union Development Association was founded in 2003 in response to the feeling that CUs were not responsive to changing market conditions. Its members have a combined asset base of over €1.5 (CA$2.1) billion.

ILCU represents 498 CUs.

Legislation continues to evolve to solve the movement's current problems. It is expected that there will be many mergers of smaller CUs over the next few years.

Photo: The three founders of the Irish CU movement in a painting.


EASTERN EUROPE

Prior to WWII many eastern European countries had CU-type organizations. Those that survived the war were disbanded when the USSR took over.

Poland was one of the first to reestablish a movement.

Grzegorz Bierecki was sent to the US to look for alternatives by then Polish President Lech Walesa.
Almost by accident, Bierecki stumbled across a CU. He took the concept back, and went to work with the support of Walesa.
Poland now has 55 CUs with 2.6 million members. Bierecki is Chair - National Association of Cooperative Savings and Credit Unions (NACSCU) and of WOCCU.
He was the mover behind WOCCU's WYCUP program, which encourages younger CU employees around the world to not only stay in the movement but to be involved on an international level.

Other former eastern block countries are in various stages of development.

Photo: Without Grzegorz Bierecki the Polish CU movement would not have been formed.


AUSTRALIA

The Credit co-op concept has existed in Australia since 1905, but it wasn't until 1923 when the first State Co-operative Act in Australia was passed in the North South West. It was amended in 1941 with the Small Loans Acts.

CUs were not allowed to be formed during WWII, but the ban was lifted in 1944.

The first CU was opened in Sydney under the direction of Kevin Yates (1911-1987). (Photo to the right). He had seen the success of CUs when he served in the 186 Squadron Royal Australian Airforce in Nova Scotia. Twenty-two people agreed with him and they launched the Universal Credit Union Co-operative in Sydney.

Other CUs followed. Most were either parish or community based.

Australian CUs' main competition is four big banks. The movement leaders have banded together all mutual-type financial institutions under one umbrella organization, the Customer Owned Banking Association and represents:
• 79 CUs
• 6 building societies
• 10 mutual banks
It also represents 13 friendly societies though the Friendly Societies of Australia and a number of affiliate members.

Australia also has the Australasian Mutuals Institute (AM Institute) which maintains training for CU management.


FIJI
Father Marion Ganey
A US-born Jesuit priest, Father Marion Ganey (photo), was responsible for planting CU seeds in the Southern Pacific region beginning in Fiji.
He believed that poor people were able to handle their own financial affairs. He was also able to work around the crushing local customs of lending, kerekere, of the iTaukeis.

Working with Tom Mitchell, a Catholic layman of Hamilton and Father H. Boyd of Matata, the three men established two sister parish CUs in Jan. 1954. In July 1954 Father Ganey oversaw the Credit Union Ordinance. This later became the Fiji Credit Union Act that became the model for other CU movements in Tonga and Samoa.

He also:
• Organised insurance underwriting for the Pacific CU through CUNA Mutual Life Insurance
• Developed the Bergengren Credit Union Training Centre in 1964
• Contributed to the formation of the South Pacific Association of Credit Union Leagues
Fiji, at its height, had a total of 39 CUs with some 8,600 members. Now there are 27 CUs with 4,800 members. Fiji has a population of about 840,000 people.

Photo: Father Ganey's grave is honoured annually on the date of his death. He was buried locally at his request where he was made an honorary Komave villager He was made an honorary Komave villager and a member of the Waqanitabua clan (mataqali).


NEW ZEALAND

Father Marion Ganey was invited to lead a seminar in New Zealand on CUs which in turn influenced Colin Smith, who organised the New Zealand Credit Union League. This became the New Zealand Association of Credit Unions (NZACU) in 1989. Trevor Barber was the League's first President and Colin Smith (photo) the first secretary.

In 1964 the League had nine member CUs. Colin Smith held the position of Managing Director until his death in 1986. He travelled around New Zealand, promoting parish and industrial-employee CUs. He also travelled overseas in order to learn more about CUs working with CUNA International which became WOCCU.

NZACU represents 93% of the CUs and mutual building society sector in New Zealand worth over $1.4 billion in assets.

Today New Zealand has 19 CUs created from the merger of over 100 smaller CUs, with a current membership of about a half million.


AFRICA

CUs in Africa are called SACCOs. Twenty-four countries are in various stages of development. The Canadian Development Foundation has been an active participant in training and development.


LATIN AMERICA

Seventeen Latin American countries are growing their CUs. WOCCU has run many development projects.


CARIBBEAN

Sixteen countries have some three million members.

SUMMARY

In all countries CUs are democratic institutions with the concept of "People Helping People." Over the centuries they have helped lift millions out of poverty, but have also helped those more fortunate to better handle their financial lives.
Source: CU Newswire 6 October 2014 Vol 7 Issue 40
National Denim Day - May 13th
May 31, 2014
On Tuesday, May 13th, Eagle River Credit Union wore their denim in support of Breast Cancer Awareness and Research. May 13th was National Denim Day. For the seventh year in a row, Eagle River Credit Union has participated in fundraising for this great cause. This year, staff were pleased to have raised $188.80.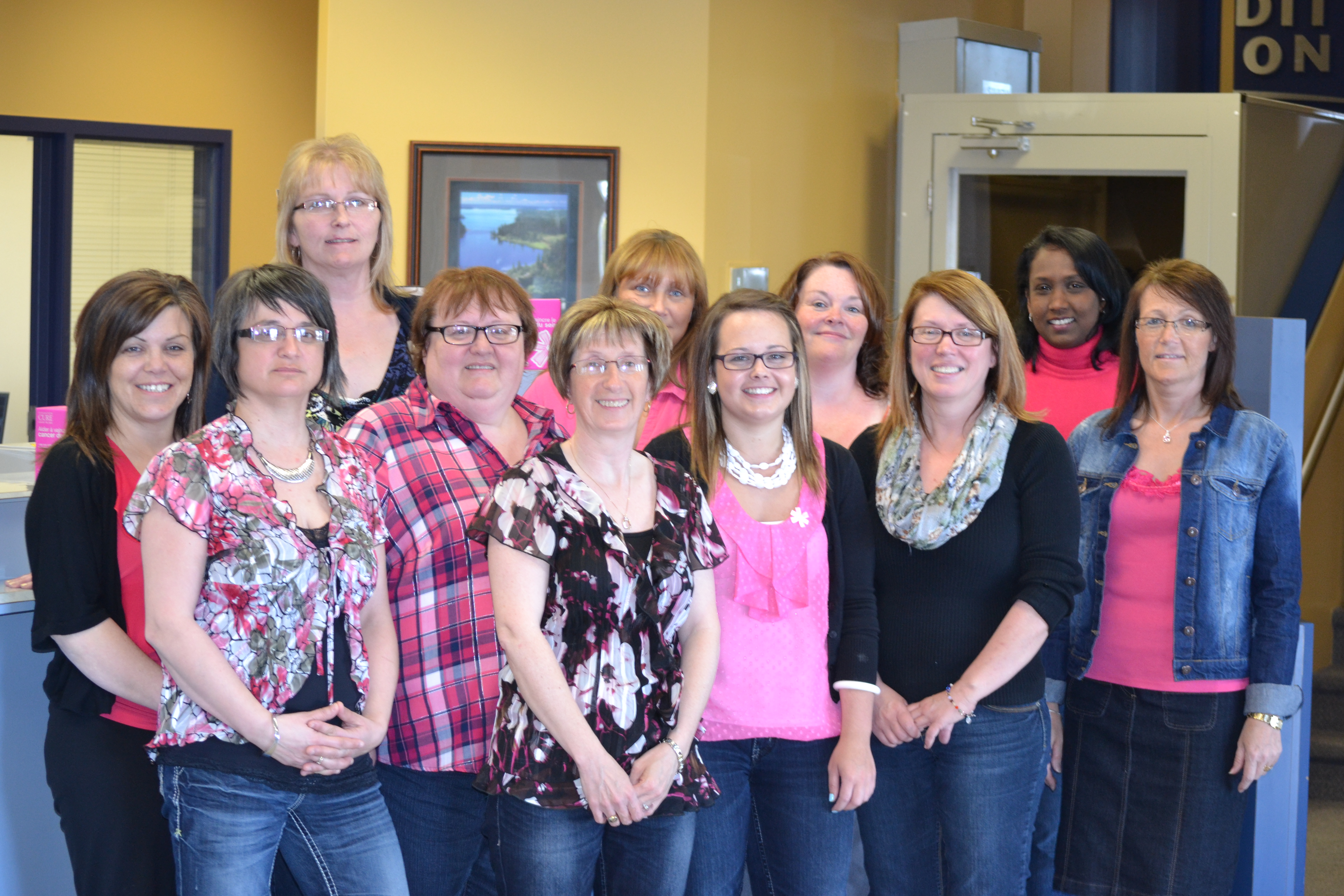 Staff of Corporate Office and L'Anse au Loup Branch wearing their jeans in support of National Denim Day 2014
A thank you is extended to all members who came out to support staff during this fundraising effort!
ERCU Thinks Pink
May 5, 2014
On Tuesday, May 13th, Eagle River Credit Union Staff will be wearing their jeans and PINK ribbons in support of Breast Cancer Awareness and Research. May 13th has been marked National Denim Day by the CURE Foundation. Eagle River Credit Union staff believe this to be a great cause and, for the seventh year in a row, will make a donation to wear their jeans at work on Tuesday, May 13th.
Drop by any Eagle River Credit Union branch location to show your support and make a pledge. Tax receipts are available for contributions of $20 or more.
The Credit Union Difference
  
Firsts and Quick Facts
Firsts
What many now take for granted, credit unions invented! We are the innovators in Canadian financial services. And if you look closely, most of our "firsts" are focused on making financial services better, more convenient, and more flexible for our members.
First loans based on borrower character

First payroll deduction service for deposits and loan payments

First open mortgages

First financial institution to lend to women in their own names (in the 1960s - if you can believe that)

First to offer daily interest savings

First full-service ATM network

First home equity lines of credit

First debit card service

First registered education plans

First fully functional internet banking

First cheque imaging service
Quick Facts
Now that you know how often credit unions put our members' needs first, learn a little more about the credit unions that put all Canadians first.
There are 368 credit unions in Canada affiliated with Canadian Central. We have:
1,748 locations

More than 5.2 million members

$140 billion in assets

27,000 employees

Together, we are the second largest lender to small busineses in Canada
Congratulations on being a part of the Credit Union Difference!