What's New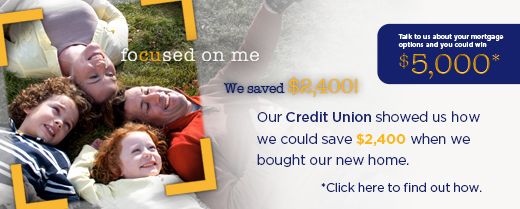 April 14, 2014 WOULD YOU LIKE A CHANCE TO WIN $5000? From March 31st to May 26th, book your mortgage with Eagle River Credit Union, and you could win $5,000!! Members booking a mortgage during the campaign period will have their names entered for this amazing draw! And with competitive rates, and flexible terms and conditions, ERCU can provide you with the Home Financing you require.
Click here to begin a loan application.
Click here for more contest information.
April 14, 2014 From April 1st-May 31st, sign up for a CU MasterCard Credit Card with CHOICE REWARDS and you will receive DOUBLE sign-up CHOICE REWARDS® points. For a World Elite® MasterCard, that would mean 10,000 points, just for signing up - a $100 travel rewards value!!
Click here to find the card that best suits your needs, click on the card you would like, then click APPLY NOW to complete a MasterCard Credit Card Application.
Click here for more information on the DOUBLE Incentive Points.
April 14, 2014 It's Patronage Time at Eagle River Credit Union! Members just recently received Patronage Rebates and Dividends in excess of $481,000 for doing business with ERCU during 2013! Profit sharing is a benefit of ownership, and when you are a member of a credit union, you are just that - an OWNER!
For 2013, members received:
5% Rebate on Loan Interest paid,

5% Bonus on Savings, Term Deposit and RSP Interest,

5% Rebate on Service Charges paid,

1% Bonus on Non-Equity Shares Interest, and

20% Bonus on Equity Shares.
Congratulations Everyone!! It certainly pays to be a member! And with approximately $5.7 million given back to members over the past 30 years in Patronage Rebates and Dividends... MEMBERSHIP NEVER LOOKED SO GOOD!!
April 3, 2014 On Tuesday, April 1st, Eagle River Credit Union hosted its 30th Annual General Meeting at the Northern Light Inn, L'Anse au Clair. The evening consisted of a great meal, the business meeting, concluding with fantastic door prizes and entertainment by comedian, John Sheehan. Nearly 140 members and guest were in attendance for the event.
Click here to view the AGM booklet, consisting of reports and financials from the 2013 fiscal year.
Congratulations to members for another successful year in 2013, and for 30 years of supporting your credit union!
March 24, 2014 All members of Eagle River Credit Union are invited to attend our 30th Annual General Meeting, being held Tuesday, April 1st, at Northern Light Inn, L'Anse au Clair. Tickets are free, and are now available by contacting your branch.
The meeting with consist of the presentation of the Annual Reports, presentation of Financials, Elections, etc. The meeting portion of the evening will be preceded by a sit-down supper, with fantastic door prizes and entertainment by comedian, John Sheehan to follow.
All members are encouraged to attend.

March 5, 2014 Eagle River Credit Union is accepting nomincations for four(4) positions on the Board of Directors - three 3-year positions, and one 1-year position.
Being a Director provides an opportunity to further develop management skills while assisting in developing the objectives and goals of Eagle River Credit Union.
If you have a background or interest in Information Technology, Human Resources, Marketing and Sales, and/or Finance and a commitment to the Credit Union philosophy, your nomination committee would like to hear from you. Some training may be required.
Deadline for nominations is Friday, March 28th at 12:00 noon.
Elections will be held on Tuesday, April 1st at ERCU's 30th Annual General Meeting, Northern Light Inn, L'Anse au Clair.
For more information, or to begin the nomination process, please email: erinfo@ercu.ca, or call your local branch.
January 8, 2014 Beginning on Thursday, January 9th, Eagle River Credit Union will be offering extended office hours to better serve our members. Every Thursday, all branch locations* will be open for teller service from 9:30 a.m. to 7:00 p.m.
Additionally, every Saturday, Labrador Savings branch (Happy Valley-Goose Bay) and one other branch (on a revolving schedule) will be open for member service (by appointment) from 10:00 a.m. -1:00 p.m. The schedule for Saturday service for January 2014 is as follows:
Saturday, Jan 11th: L'Anse au Loup Branch, Tel/Toll-Free: 927-5524 / (877) 377-3728 Fax: (709) 927-5759
Saturday, Jan 18th: Mary's Harbour Branch, Tel/Toll-Free: 927-6354 / (866) 921-6354 Fax: (709) 921-6345
Saturday, Jan 25th: White Hills Branch (St. Anthony), Tel/Toll-Free: 454-8800 / (866) 554-8800 Fax: (709) 454-2138
*Excludes Humber Valley and Cartwright Branches
Click here for the complete Extended Service Schedule (January-March 2014).
January 2, 2014 Eagle River Credit Union is pleased to advise all members that effective today, January 2, 2014 the amalgamation between Eagle River and Humber Valley Credit Union's is official. On behalf of the Board, Management and Staff of Eagle River Credit Union, we welcome Humber Valley Branch to the Eagle River family! We look forward to providing Humber Valley members with the great service and financial advice that you expect and deserve.
CUMIS Monthly Premium Insurance Rate Adjustments Effective November 1, 2013.
You have made a wise choice enrolling for Creditor Insurance on your line of credit loan to protect you and your family against life's unforeseen events. You will continue to have peace of mind knowing you and your family are protected.

If you currently have a CUMIS Monthly Premium Creditor's Group Insurance certificate with life and/or disability insurance on a line of credit loan, your rates are being adjusted effective November 1, 2013. Please watch your mailbox for an official notification from CUMIS being mailed in October 2013.

The current Life Insurance premium is based on an aggregate rate structure (one rate for all age groups). On November 1, 2013, the rates for members aged 51 or older (with a line of credit loan $50,000 or less) will move to an age banded rate structure (specific rates for various age groups), which is standard within the insurance industry for this type of coverage. This will result in an increase in your Life Insurance premium. Also note if you have disability coverage on your line of credit loan, the disability rate will increase by 10%.

Effective November 15, 2013 your insurance premium will include the new rates on the life and disability* insurance portions. You will receive a notification letter from CUMIS to advise you of this rate adjustment which will outline your current and new premium rate per $1,000 of life and disability* insurance coverage.

It's important to remember that life can be unpredictable and being prepared for the unexpected is one of the greatest gifts you can give your loved ones. Creditor Insurance, provided by our partner, CUMIS, provides peace of mind that is priceless.

If you have any questions once you receive your notification letter from CUMIS, please contact CUMIS Customer Service at 1.800.263.9120. They have representatives available Monday to Friday from 8:00 a.m. to 8:00 p.m. EST.

*applicable if you have disability insurance coverage.
For additional information on our creditor insurance partner, CUMIS, you can also visit their website at www.cumis.com
It's Patronage Time at Eagle River Credit Union
March27,2013

It's a great time to be a customer-owner of Eagle River Credit Union. It's Patronage Time and 2012 letters are in the mail.

For 2012, over 6,500 members will receive a total $485,450 in Rebates and Dividends, for a cumulative total of nearly $5.2 million since 1984.

The payment of Patronage is based on net profits of the credit union at year-end. ERCU had been issuing Patronage Rebates and paying dividends for 29 years.

Profit sharing is one great reason to do your banking with a credit union. Because a credit union is owned by its customers, it's members receive a portion of the money it makes.

With nearly $486,000 being paid out to Eagle River Credit Union members this year, it's definitely worth it to do your banking here.

Types of Patronage

Members receiving Patronage Rebates for 2012 will have their funds directly deposited into their accounts, containing all the Rebates and Bonuses that apply to them (see your letter in the mail, which will advise how much will be deposited to which accounts).

The various types of Patronage Rebates paid by Eagle River Credit Union include:

Loan Interest (5%): This rebate is a percentage of the interest you paid on loans over the past year.

Savings, Term Deposits, and RRSPs (5%): This bonus is a percentage of interest received on Savings Accounts, Term Deposits and RRSPs over the past year. Index-Linked investments will be bonused 0.15%.

Non-Equity Shares (1%): This dividend is paid based on the minimum monthly balance in your Non-Equity Shares account.

Equity Shares (20%): This dividend is paid to Equity Shares accounts containing $100 equity. This bonus will be applied to your Special Equity Account.

Service Charges: This is a rebate on charges paid for doing certain transactions. $0.05 per item will be returned on selected transactions such as direct payment purchases (using your debit card) and cheques.

It's a time of celebration at Eagle River Credit Union! What a great time to be a member!

Phasing the penny out of Canada's Monetary System

February 5, 2013

The Government of Canada is discontinuing production of the penny as of February 4, 2013.The cent will remain Canada's smallest unit for pricing goods and services. The penny will retain its value indefinitely and can continue to be used when making payments at retailers that accept them. For cash transactions, the Government of Canada is adopting a rounding guideline that has been used successfully by other countries - rounding, either up or down, to the nearest five-cent increment.

At Eagle River Credit Union, we want to make this transition as easy as possible for our members. Consistent with other financial institutions, Eagle River Credit Union will no longer issue pennies as of February 4, 2013.

Cash back transactions will be rounded to the nearest nickel. We will continue to accept loose pennies and fifty cent rolls for cash deposit, calculated to the cent. Credit card, debit card and cheque transactions will use one cent increments.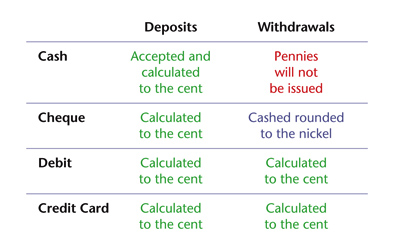 How does this affect cheque cashing and business members?
Our credit union will be using the rounding process outlined below. Our business members will also need to determine a rounding policy for their customers.
Amounts ending in 1 cent and 2 cents are rounded down to the nearest 10 cents
Amounts ending in 3 cents and 4 cents are rounded up to the nearest 5 cents
Amounts ending in 6 cents and 7 cents are rounded down to the nearest 5 cents
Amounts ending in 8 cents and 9 cents are rounded to the nearest 10 cents
Amounts ending 0 cent and 5 cents remain unchanged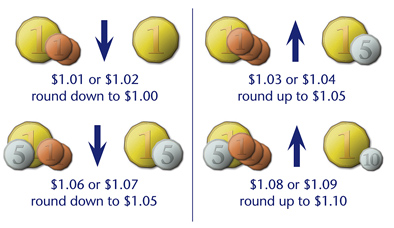 For more information visit the Department of Finanace website.
Calling All Children - ERCU Hosts Lucky Branch Contest
December 6, 2012
Until December 21, 2012 the Eagle River Credit Union will be hosting its annual Lucky Branch contest where youth under the age of 12 can bring in a handmade/homemade ornament to decorate our Christmas Tree. Place your ornament on or closest to our predetermined "Lucky Branch" and you will win the present(s) under the tree.
If you do not have a handmade ornament some are available to purchase at your branch office.
Stop by with your ornament today and help us decorate our tree!
Central Labrador Excellence Awards
November 23, 2012
The Central Labrador Excellence Awards (CLEA) identify and recognize the achievements of local small and medium sized businesses in central Labrador (Happy Valley - Goose Bay, Mud Lake, North West River and Sheshatshui).
For the second year in a row, Eagle River Credit Union has sponsored the New and Emerging Business award. This year's recipient was Precision Automotive, of Happy Valley-Goose Bay.
Congratulations to the Precision Automotive Team!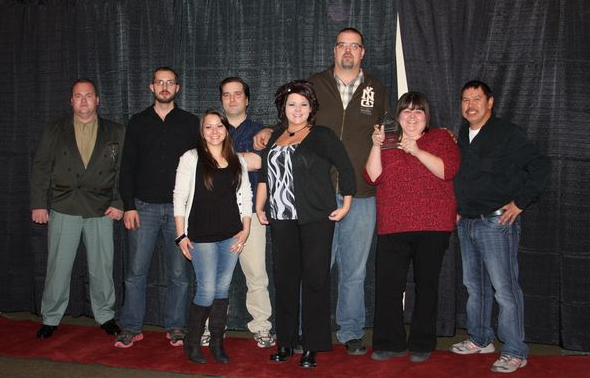 Little Black Book of Scams
November 23, 2012
The Competition Bureau of Canada has released a new publication intended to assist Canadians in protecting themselves from being defrauded by various common scams. The e-booklet describes the various types of common scams ranging from internet scams, charity scams, job and employment scams, etc., and some tips to assist you in protecting your identity and your money. There are also useful tips to protect yourself while on the telephone, via email and on the internet, as well as what to do if you get scammed.
For more information on common scams affecting Canadians, you can visit the Canadian Anti-Fraud Centre at: www.antifraudcentre.ca, or the Competition Bureau of Canada at: www.competitionbureau.gc.ca.
Click here to download the Little Black Book of Scams.
Credit Union DIRECT PLAY AND WINTM Debit Card Sweepstakes
October 31, 2012
The annual Credit Union DIRECT PLAY AND WINTM Debit Card Sweepstakes is back this fall. The contest runs from Monday, November 5th through Sunday, December 2nd, and is open to all Credit Union MemberCard® Debit Card cardholders.
Credit Union members will be automatically entered to win $500 every time you use your credit union debit card to make an Interac Debit transaction during the contest period.
There will be nine provincial winners picked per week for four weeks. Each winner will receive a $500 cash prize*. Manual entries may also be made without a purchase, with a limit of one per household per week.
*Before claiming a prize, potential winners will be required to answer a mathematical skill-testing question.
12 Ways Credit Unions Build a Better World -
National Co-operative Week - October 14th-20th
October 15, 2012
1. Credit Unions are DEMOCRATIC organizations, owned and controlled by their members on the basis of one member, one vote.
2. Credit Unions are VALUES-DRIVEN enterprises that are guided by seven internationally-recognized principles.
3. Credit Unions have SOCIAL as well as ECONOMIC objectives and put PEOPLE before profits.
4. Credit Unions are more DURABLE than other types of businesses; research has shown that new co-ops are moe likely to remian in business than other new enterprises and are more resilient in economic downturns.
5. Credit Unions are part of a dynamic GLOBAL MOVEMENT with more than a billion individual members around the world.
6. Credit Unions are ROOTED IN THEIR COMMUNITIES; the jobs and wealth they create remain in the communities in which they are located.
7. Credit Unions EMPOWER people to take control of thier economic lives and futures.
8. Credit Unions respect the ENVIRONMENT and are recognized as leaders in sustainability.
9. Credit Unions are the financial institution of choice for MILLIONS OF CANADIANS.
10. Credit Unions can be found EVERYWHERE; in small villages and big cities; in every region of Canada and most of the world's countries. They exisit to serve virtually every sector of the economy.
11. Credit Unions CO-OPERATE with each other, working together at the local, provincial, national and international levels. Canadian co-operatives are actively involved in assisting co-operative partners in developing countries.
12. By proclaiming 2012 the INTERNATIONAL YEAR OF CO-OPERATIVES, the United Nations has recognized the important role co-operatives such as Credit Unions play in the social and economic development of communities worldwide.
National Co-operative Week is October 14th-20th this year. Visit your Credit Union and join in on the festivities on International Credit Union Day - October 18th.
Click here to view Prime Minister, Stephen Harper's official National Co-op Week message.
Small Business Week - October 15th-19th
October 15, 2012
October 15th-19th has been deemed Small Business Week in Canada. This special week is designed to recognize the contribution that small and medium-sized enterprises make to local communities all across the country.
Eagle River Credit Union wishes to salute the business community of Newfoundland and Labrador, especially our member businesses. We thank you for the work you do in and for the community, and for the employment you create. Small and medium-sized businesses are the back-bone of the economy of our province, and your contribution to the growth and sustainability of our communities is certainly appreciated.
To our member businesses, Eagle River Credit Union would also like to thank you for your continued patronage. We salute you, and look forward to working with you into the future.
Happy Small Business Week!
Travelling to the US just got easier...
October 15, 2012
Cross border travel is at an all time high. To make travelling in the US more convenient for Canadians, Interac Direct Payment has partnered with the NYCE debit network in the US. This will allow you to use your debit card to make purchases at 1.5 million retail locations across the United States including department and club stores, restaurant outlets and participating gas stations. Just look for retailers displaying the NYCE logo.
For a detailed listing of participating retailers please click on the following link: http://www.nyce.net/consumers/retailerlist/popularretailers/index.htm
Jet Set Getaway Contest
October 3, 2012
Sign up for a Credit Union MasterCard Credit Card or GLOBAL PAYMENT MasterCard card between October 1st and November 30th and you could win with the CHOICE REWARDS Jet-Set Getaway Contest!
Six (6) lucky regional Grand Prize winners will receive their choice of up to $5,000 towards accommodations, return flight from a major Canadian airport to two North American cities (that are in close proximity), car rental, and spending money OR 500,000 CHOICE REWARDS points. Whether you want to plug into the energy of Montreal and New York, get your game face on in Chicago and Philadelphia, or swing to jazz in New Orleans and salsa beats in Miami, the CHOICE REWARDS Jet-Set Getaway Contest could let you explore to your heart's delight!
Each regional Grand Prize winner will also have a chance to give something back to the community. In addition to the exciting vacation, winners will also receive a $2,500 donation made in their name to a Canadian registered charity of their choice.
There will be a total of six (6) regional Grand Prizes winners.
BUT... That's not all!!
New and existing cardholders can also win 1 of 25 Mobile Device Portable Chargers simply by using your cards during the contest period. These handy devices can power all your mobile devices on land, at sea, or in the air, have 4 GB of memory, and recharge through a wall plug, USB port, or a solar panel. Make 15 or more purchases between October 1 and December 31, 2012, and new and existing cardholders will be automatically entered for a chance to win courtesy of the CHOICE REWARDS program.
To start a credit card application, click here, or click here to have someone contact you.
*Contact your branch for complete details. Some conditions apply.
Global Payment Chip Card Migration Nearly Complete
October 3, 2012
In August, 2012, chip cards were automatically ordered for anyone who was still in possession of a magnetic stripe card with a valid date. This is the final step to migrating the last of the magnetic stripe cards to chip card technology - a more advanced and secure type of card system.
ERCU has been advised that effective October 29th, 2012, all magnetic stripe cards will be closed. In order to avoid any interruption in service, this means that members should activate their new Chip Cards, and destroy their magnetic stripe cards as soon as possible.
For those members who have pre-authorized payments set up on your current Global Payment Card, (i.e. insurance, cable, telephone, etc.), you will want to contact your biller and update your card number with them as well. This will prevent returned payments due to card transactions being declined (after October 29th).
Should you have any additional questions or concerns about your new Chip Card, how to activate your new card, or if you have misplaced your new card, please contact your local ERCU branch location, or email us at erinfo@eaglerivercreditu.ca.
International Year of Co-operatives Atlantic Credit Unions Bursary Program
July 6, 2012
2012 was designated the International Year of Co-operatives by the United Nations. In honour of this, Atlantic credit unions are pleased to sponsor eight (8) special one-time $1000 bursaries for Atlantic post-secondary students. Two (2) bursaries will be awarded per province.
Click here to download a copy of the bursary application.
Bursary Eligibility
Open to students pursuing post-secondary education at an accredited university or college in Canada.
Students must have lived in Atlantic Canada for at least one (1) year as of the application deadline.
Two (2) bursaries will be awarded to students in each of the Atlantic Provinces: New Brunswick, Prince Edward Island, Nova Scotia, and Newfoundland and Labrador.
Student must demonstrate involvement in co-operative or credit union activities.
Student must demonstrate community involvement and leadership.
Student must demonstrate academic aptitude and commitment.
Student must demonstrate financial need.
Submitting Applications
By Mail:
Atlantic Credit Unions IYC Bursary
c/o Atlantic Central
PO Box 9200
6074 Lady Hammond Road,
Halifax, NS B3K 5N3
Fax: (902) 484-6771
By Email:
Copies of the application can be sent via email to communications@atlanticcentral.ca. Your submission from your email address will be considered to constitute an official signature.
Before mailing please ensure your application is accompanied by:
___ A copy of your post-secondary institution acceptance letter or other proof of enrolment
___ A transcript of your 2012 (or 2011) marks
___ A portfolio, if applicable
Deadline for receipt of applications is 1:00 pm, August 1, 2012
Awards will be announced September 15, 2012
Introducing a New Web App to Make Finding a Credit Union or CU ATM Easier
On March 20th, Credit Union Central announced a FREE Credit Union Mobile App now available that enables users to find credit union locations and ATMs anywhere across Canada, via their iPhone®, Blackberry®, Android™, or Windows® smartphone.
Called Canadian Credit Union Branch and ATM Locator, the GPS-enabled app provides directions and interactive maps to credit union branches and ATMs available on the ACCULINK® service and THE EXCHANGE® network across Canada (these are the network that allows credit union members to have surcharge-free ATM access). It also gives an overview of branch hours and services available at each of these locations.
To download the app, Canadians should visit their smartphone app provider:

• For iPhone®: http://www.apple.com
• For BlackBerry®: http://www.blackberry.com
• For AndroidTM: http://www.android.com
• For Windows®: http://windows.com
Is your businesss an on-the-go business where it is important that payments can
be made at various locations? Mobile PayTM may be just what you are looking for! With the capability of using an iPad, iPhone, or select Android phones as a mobile payment terminal Mobile PayTM gives merchants the ability to accept payments in real time from virtually anywhere. Inquire today to see if Mobile PayTM is right for you!